---
ADE 2017 – short guide for Trance Family
Written by Katrina Merca on October 12, 2017
Next week Amsterdam will host one of the biggest electronic music events in the world, including festivals, conferences, playground etc., where you can hear and meet a lot of producers and DJs. As for Trance music lovers, we are interested in events of our genre, and there will be some every day. Who is ready for 4-5 days-in-a-row-party?
Wednesday, October 18:

In Trance We Trust Festival
As presented by Menno de Jong, it's one of the biggest Trance events during ADE week. Big variety of artists, including 3 different stages at one venue. Perfect event to start ADE! First listeners to enter will be able to receive special In Trance We Trust wristbands as a gift!
Time: 21:00 to 7:00                                Facebook event: here
Thursday, October 19: Choice between

Luminosity

and

A State Of Trance
What can be worse than two events overlapping? When they are both good. If you want to hear many different DJs and party for a long night, then Luminosity would be the best choice – 14 h event and many artists, including small and big names. If you are a big fan of ASOT, Armin van Buuren (as a special guest), Aly & Fila, Cosmic Gate etc., then ASOT event will become your choice, as it's probably the only way to hear Armin at some smaller event that week. Well, if you are quick, you can try to do both events – it's all up to you! Also, not to forget – ASOT ADE Special will be broadcasted live as extra long #ASOT836 episode, you will be able to listen to it also on our Trance-Energy Radio website!
Time: 17:00 to 7:00       Facebook event: here                                                                  Time: 22:00 to 4:00       Facebook event: here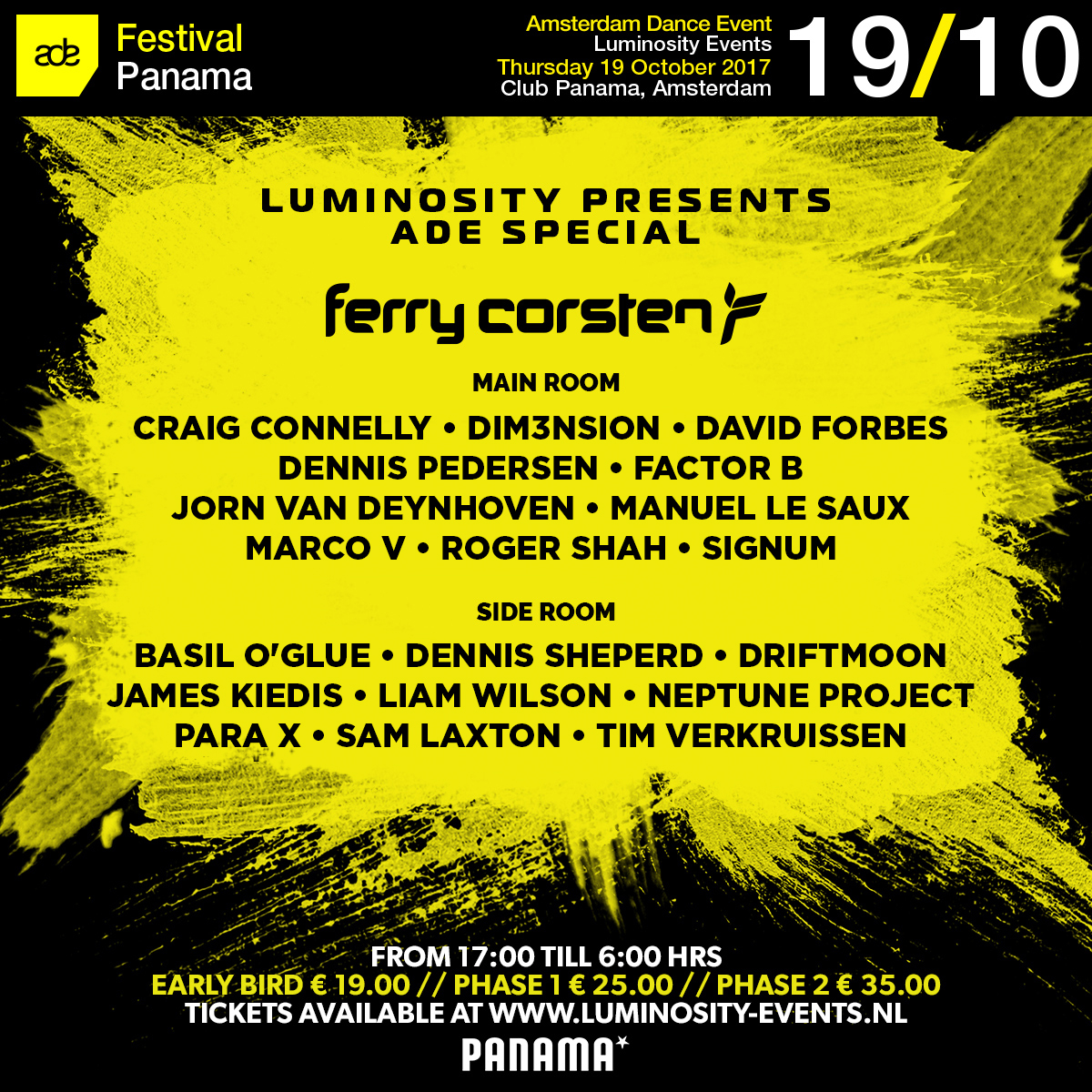 Friday, October 20:

Markus Schulz Open to Close
Who is ready for whole night musical journey with Markus Schulz? Probably just the ones who got tickets in time or who have connections to be added to the guest list, as event is SOLD OUT! If someone still hopes to make it there – good luck searching for your chance at TicketSwap!
Time: 23:00 to 5:00 (and longer)                   Facebook event: here
Saturday, October 21
Quest4Trance & Solarstone Present: Pure Trance ADE 2017
Even if the line-up is small compared to other festivals, it means that this event will provide you with longer and also more special sets from every of the DJs.  Feel-good atmosphere is guaranteed!
Time: 20:00 to 6:00                          Facebook event: here
Purple Haze – Album Release Party
If you think that Pure Trance is not what you want to hear, you can go and be one of the first ones to hear new album by Purple Haze, a project by Sander van Doorn. Be ready also for special audio-video live show!
Time: 23:00 to 6:00                          Facebook event: here
AMF – Amsterdam Music Festival
If you think that it was enough of Trance for you already, and you want to see a special Armin van Buuren + Hardwell performance during AMF, then nobody can blame you for that. Amsterdam Arena is huge, and you can also go there with other of your friends, who are used to different and more "popsy" kind of music. Extra plus – DJ Mag Top 100 names will be announced right there!
Time: 21:00 to 6:00                          Facebook event: here
As we mentioned, ADE is not only about night parties and festivals: during these days there are a lot of smaller and other genre related events happening all around Amsterdam. For more info, be sure to check official website of ADE, as you always can find something interesting.
IMPORTANT!
Don't forget to sleep, eat normally and be safe! Partying so many days in a row is not easy! 
See you at ADE!
---